Well Gang it's been a few days so here goes. It was Jen's Birthday on the 5Th and I'll start with that and work backwards. Pam and Chuck came up and spent the weekend with us and it appears a great time was had by all. We did not have cake but Pam made a batch of Brownies Jen only wanted one candle in the ice cream above the brownie in the bowl. It was a little cold that night too here in the Adirondacks
Pam ,Chuck , Jen,............... Jake looking to snatch away that brownie from Pam's Hand.
Before Ice Cream & Brownies we had raw clams...Yum-Yum!!!!!!
Pam getting ready to do a little clean up in our pond... Nice outfit!!!!! No remarks from the Fashion Police, Please. Remember this is an outfit that is OK........In the ADK'S
Pam in the Pond, Me helping from shore
Just a random shot of Me and Dan ( the Bee Guy) Cooking one night before Jen's Birthday
Pam & Chuck waiting for fireworks on the 4th at Julie & Rich's house on East Caroga Lake. Never saw the fireworks as it got too cold and windy so we watched the Macy's display on T.V. as it was raining here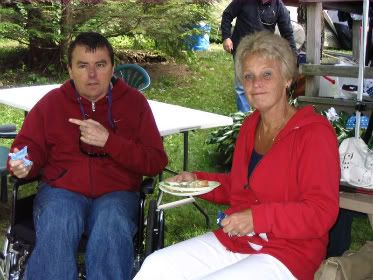 Dave from down the road putting in a rock garden in our front yard.
Onnie & Clint playing a few tunes while Jen was staying there during the Breezy Point show. Here are a few shots that she left out from .....THE BREEZY POINT SHOW!!!!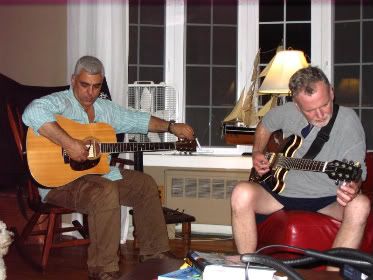 Jen Belting out a song....God She is great!!!! Sorry about the focus
MaryAnne Singing.....Wish I cold sing......they make it look so easy!
Jen & MaryAnne
MaryEllen thanking the cast after the show at the Cast Party. Good Job cast and crew......MaryEllen too!
Thanks Pam & Chuck for coming up...Had a Great Time!!!! Well thats about it.....all caught up.......mostly. I'm sure Jen's got more to add. Til next time gang.... Jerry