Well Gang here we are Sunday Morning In Saratoga Springs getting ready for the TOURdeCURE 2009. The event brought in riders from all over the area and some other states. This tour started at different times depending on what you signed up for, The 100 mile tour started at 7Am !!! Other Tours , 60 miles, 25 miles and our ( I mean Jen's) 10 miles which started at 10 am.
After checking in Jen and Ali going over some pre tour paperwork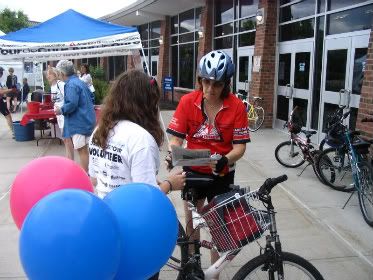 Ali ready with her smile to cheer on her Mom!!!
Jen at the starting line waiting for her fellow riders
At the starting line the group of riders are getting pumped and more riders finding their way.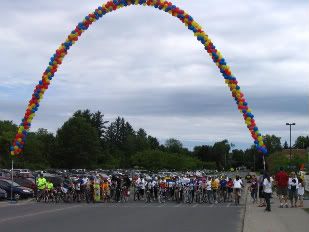 With much hope the group was off for a fun 10 miles... Go Jen!!!!!! After a little over an hour with a midway rest stop Jen returns with a smile on her face!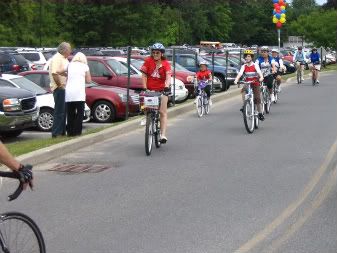 Hey for those of us who remember....Does this look like a scene from "M.A.S.H."?
A local company donated rub downs for riders who needed to be Kneaded!!!!
Lunch was also provided for the riders and volunteers like Ali and Me who waited at the finish lines cheering on the riders as they returned. Jen's Cheering Crew and support team....To all that pledged and sponsored Jen in her ride......THANK YOU.
We are planning to ride next year as a team and we are looking for other riders to come and spend the weekend here and ride on the day ...., TOURdeCURE 2010. Maybe even a 25 mile ride..Thinking of getting a team"Blue Line Farm" Jen You are our Hero!!! Way to get out there and show your support for the cure! Hey Gang...Come up next year and lets do it...!!!!!! Til Next time Gang.......Jerry