Well Gang , 1st off........., Happy Administrative Assistants Day !
Dan the Amish wood worker, the logger, the guy who cleared our pasture last year has our wood planking that is going on the bedroom walls and floor ,nearly ready It's rough cut planks 3/4 of an inch thick by 8 inch for the walls and ceiling , 10 inch for the floor. Dan called last night from his neighbor who is not Amish to ask that I come down to his saw mill and start picking up the planking as it needs to be stacked and stored here to dry for a while and that since warm weather is coming this week , near the 80's it needs to be soon. If it's not stacked properly it will turn colors or blacken. I sorta know what he's talkin about. Stacked level by level with cross members so that air can flow across each board and dry.
We gave him the lumber / trees that had been standing on our land.......now I'm buying back lumber from him. The weather report for this weekend and most of next week will be in the mid 80's here in the North Country, for me that means spring is over and time to fire up the central A.C. unit.
I think Jen will be standing in front of the thermostat if I get thinking about cranking up the A.C. so soon with a Pizza Peel.
PIZZA PEEL for those of you who dont know!! ( sorta looks like the Board Of Education that I grew up with at Home...Whata think?)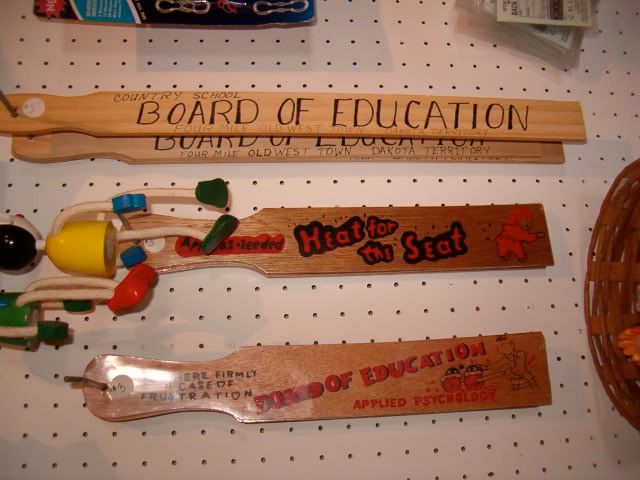 Any how that's today's list of jobs, I'm sure it will take a few trips to and from Dan's mill. The sun is trying to peek thru today, they expect it's going to be 62 .Oh....Just remembered , Yesterday It appears that it was Dave's last day of tapping trees for sap as I helped him remove a few lines yesterday, think he still has some sap to boil off but thats it for the year. We tried to boil what we got from our trees....4-5 gals of sap. No luck getting it to boil outside on the side tray of the Bar-b-q. Dave does have a few more line in the woods to clean up next week and looks like I will be giving him some help making those ready for the summer.
I now have about a Gal. of Maple Syrup in cabinets which should last until company arrives.
Amish Hickory Wood Rocker for the front porch, after its completed.
Two Rockers, table and front porch swing... By the way thats the studio that the rockers are in, and at some point where Jen will be Spinning Fiber.....Soon, as soon as I get to it!!!!
The New Garden , waiting for planting.